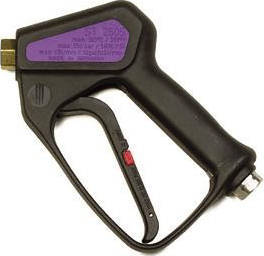 Specifications:
5000 PSI
12 GPM Max Flow
300°F Temperature Rating
Rebuildable
Quick Connects
Best Gun Around!
Applications:

Ideal for various industrial cleaning applications

Features:
14% less trigger force required than conventional trigger guns.
Designed and tested for a minimum of 100,000 trigger pulls! Lasts 2-3 longer than a comparable gun.
Easy pull trigger and optimal spray angle provides a more comfortable and ergonomic fit allowing for longer work sessions.
Improved burst rating means a safer gun!