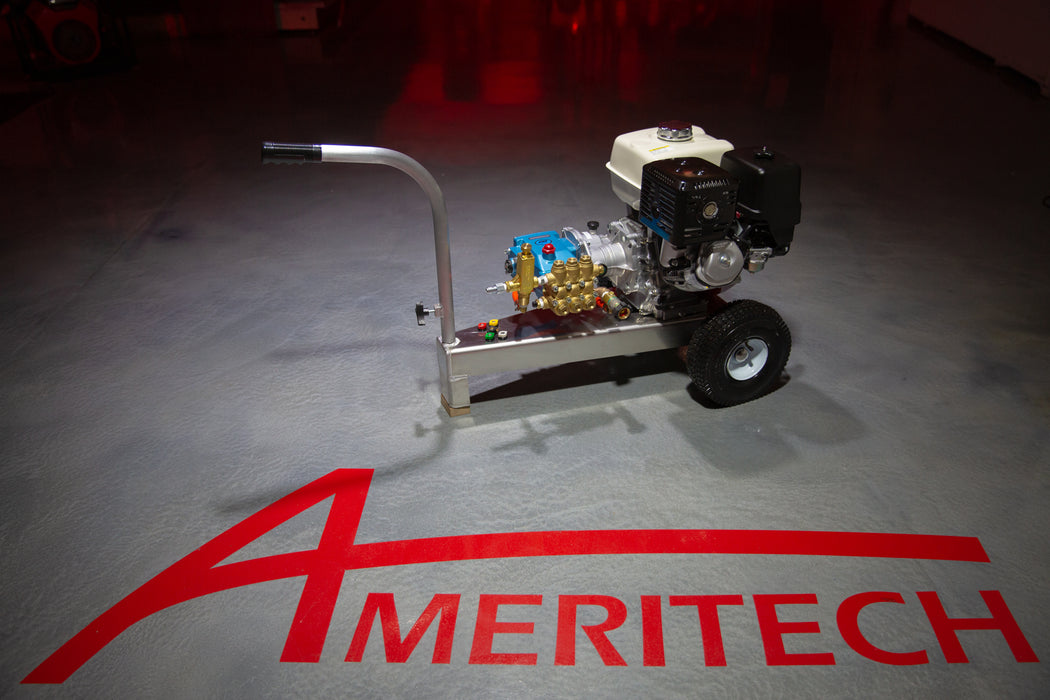 5CP AMERITECH MFG - 3500PSI @ 4GPM
AMERITECH MFG - 3500PSI @ 4GPM 
AH13355CP3120G1 -HONDA
AK143355CP3120G1 -KOHLER
Gas-Powered Pressure Washer
Manufactured in Tampa, FL
Gearbox Driven Cat Pump
5 year Cat Pump warranty 
3 year Honda//Kohler Motor Warranty
Best 4 GPM unit on the market 
No belt changes or bulky/heavy belt frames
- Aluminum A-Frame
- Pneumatic Tires
- Removable Handle
Includes Standard Accessories - 50' Gray R1 non-marking hose with Quick Connects, 3' Aluminum wand with quick connects, High pressure control gun w/ Quick Connects, Chemical Injector with Quick Connects, 6' chemical hose with strainer, 5 Quick connect tips, 10 o-rings 3/8", and 10 o-rings 1/4"
Ameritech Manufacturing Features Include: Aircraft Grade Aluminum Frame with removable handle, 50 mesh inlet filter, flow sensitive unloader, low oil shutdown on engine, pneumatic tires, oversized pure gum rubber shock-absorbing foot, heavy-duty 3/4 inch axle, commercial Honda Engine, pressure relief pop off valve and thermal sensor to protect pump from over-heating. 

**We have manufactured this unit for over 20 years of proven results.  Cat gear boxes are smooth and bullet proof.  The seal and valve life on Cat Pumps are the industry leader.