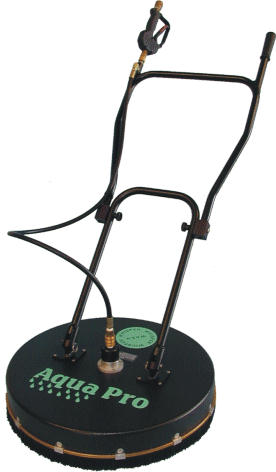 24" Whisper Wash Ground Force
Features:
24" Diameter Cover with Wheels
Trigger Gun Control 
Balanced & Machined Spray Bar 
Heavy Duty Nylon Brush 
Powder Coated Handle 
21 Lbs Total Weight 
Hot or Cold Water Applications

Applications:
Parking Lots
Sidewalks
Driveways
Loading Docks
Walkways
Roofs
Warehouse Floors
Garage Floors
Tennis & Shuffleboard Courts
Marina Docks
Ramps
Pool and Patio Decks
Service Stations
Much, Much More!

Operating Specifications:
PSI: 2,000 - 4,000
Temperature: Up to 212 °F
Dimensions: 24" Diameter
GPM: 4 - 10
RPM: 2500
Weight: 21 LBS

Warranty:
1-year Warranty for Manufacturer's Defects.
90 Day Warranty on Normal Wear Items.